CLICK HERE TO VIEW OUR WINDOWS GALLERY
Here at MJB Conservatories we have extensive designs to complement every home. The doors and windows you choose have a major influence on the look and character of your home. Choose a finish that makes your home unique.
The PVCu window has come a long way over the past three decades. Gone are the days of bulky and obtrusive frames. Today, PVCu windows are not only designed to look good, but also to meet the highest standards of quality and performance.
Our PVCu window frames are designed to provide optimum strength, superior thermal properties and excellent weathering performance and will retain their pristine appearance year after year with the minimum of maintenance. Our comprehensive range of products is available in a range of finishes – brilliant white, mahogany, rosewood, golden oak and many other colours - please ask for details. Woodgrain on white achieves the look of traditional hardwood frames on the outside and brilliant white frames on the inside. The visual effect of the new Anthracite grey colour, in particular, is stunning.
Energy efficient windows – why it makes sense.
With rising energy costs, fuel costs and living costs, the last thing you want to do is throw valuable money out of the window. But that is exactly what you could be doing if your windows aren't energy efficient. Significant advancements have been made in recent years to ensure the windows you install in your home retain heat and reduce the amount of energy you use. If the windows in your home consist of single or older double glazed units, replacing them with energy efficient windows will save you money: in fact it can reduce the energy you need to heat a home by up to 20%.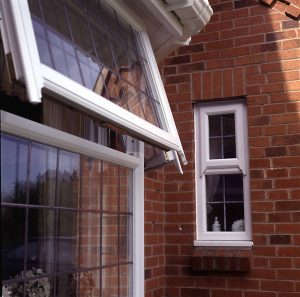 With visible benefits for both the environment and your pocket, it's clear to see why energy efficient windows are important, so how do you choose the best ones for you? If you want your windows to have a positive impact on the environment, choosing a reputable installer such as MJB Conservatories is a good place to start. Individual workmanship can affect the benefits of installing energy efficient windows; choosing a company with the credibility and expertise will guarantee a first-class installation.
Pilkington energy efficient glazing reduces the amount of heat loss through windows and it also allows more heat (energy) from the sun in through the window – this effect is known as solar gain. As solar gain is heat from the sun, it's 'free of charge' and available all year round.
The versatility and elegant good looks of our comprehensive range of products are designed to suit any style of architecture and we can offer you a design that is tailor made to meet your individual requirements. From the simplest casement window to the grandest Victorian bay, we can create both traditional and individual looks for your home. For those customers looking for a totally different style from that of their neighbour, the solution may be to opt for a different glazing technique or opening position. Our comprehensive range of window styles will accommodate your individual needs. When it comes to security, we will not let you down – all our windows are produced with the latest locking systems which offer superb security and weather protection, so you'll feel safe and secure in every way.
There are many styles of windows to choose from including the new Vertical Sliding window with or without mock horned sashes. Take a look at our gallery to see examples of styles and colours available.
Bay Window
The bay window is a window space projecting outwards from the main walls of a building and forming a bay in a room either square or multilateral in plan.
Bow Window
This is used to convert a traditional flat window into an elegant bow feature giving the room more light and the feeling of space. This can be square or arched.
Casement (top/side opening)
The casement window is the most popular style of window, lending itself to virtually any application. The versatility of the system means that you can choose the positioning of the opening sashes to best suit your needs.
Tilt and Turn
Our tilt and turn window provides dual opening. By simply twisting the handle, you can engage the side hinges and swing the window right open for full ventilation or tilt the window inwards in a fixed position for gentle ventilation.
Vertical Sliding Sash
The vertical sliding sash window range combines the elegance of traditional sash windows with the benefits of modern materials. Manufactured from PVCu they are strong, will not rot, warp or require repainting; ensuring that they retain their colour and shape throughout the years with the minimum of maintenance. Suitable for both replacing existing timber sliders in period buildings and adding character to any development, vertical sliders retain all the traditional features of their familiar counterpart but with the enhanced benefits that modern PVCu systems provide.
A cost-effective, long-term and practical solution for both traditional-style and new-build properties, vertical sliders are designed to withstand extremes of temperature, maintain their colour and appearance and provide superior insulation and optimum strength.
Replacement Glass Units
Do you have some glass units in your existing double glazing which has failed? Keep your existing frames and replace just the old glass.
We will replace your old misty glass units with a thermally efficient glass unit. This would comprise of Low E glass filled with Argon gas between the two panes and a thermal spacer bar.